Distribution Partnerships
Why WSi is a perfect fit as a Distribution Partner
Wireless Solutions is a wholesale, Stocking Distributor of Motorola Solutions Two-Way Radios, Body-Worn Cameras and Accessories. We provide our Resellers with sales and marketing support, working collectively to grow our distinct businesses. We operate out of a 40,000 square foot facility and ship most orders the same day.
CORPORATE OFFICE HIGHLIGHTS
WSi operates out of a 40,000 sq. ft. facility and ensures that all orders received by 3:00 pm EST ship same day. We keep popular radio models in stock, to make sure that we have it when you need it the most!
WSi takes training very seriously, and we host on-site trainings in our state-of-the-art classroom year around. If you can't come to us, we'll come to you with our live, interactive training studio!
Updated content is a priority to us. WSi develops and publishes content to our website and YouTube channel on a weekly basis. We strive to be a valuable resource for our resellers, providing great content to educate our resellers to the max!
WSi knows that first impressions mean a lot, and we have spared no expense when it comes to modern, professional facilities. Our office has multiple conference rooms with teleconference capabilities, product showrooms, and training facilities.
HIGHLY TRAINED IN-HOUSE TEAM
Experiencing issues with your radios? WSi's in-house team can provide next level support on all our two-way radios, body-worn cameras, and accessories! Whether it be via phone support or webinar, if we can't fix it them we'll process a warranty claim for you right then!
Need assistance choosing between products? WSi can provide recommendations for which radios & products will best suit your performance and functionality needs.
Need radios to work with your existing fleet? Need further customization? Let WSi do it for you! We will custom program any of our two-way radio models to your specific settings. This service offers NEXT DAY shipping and a product that is working flawlessly right out of the box!
With more technology driven devices coming to our market, a more complex implementation process is required with them. WSi's onboarding specialists will coordinate with your IT team to assist with setup and streamlining your purchase, preventing any delays.
We'll help you get started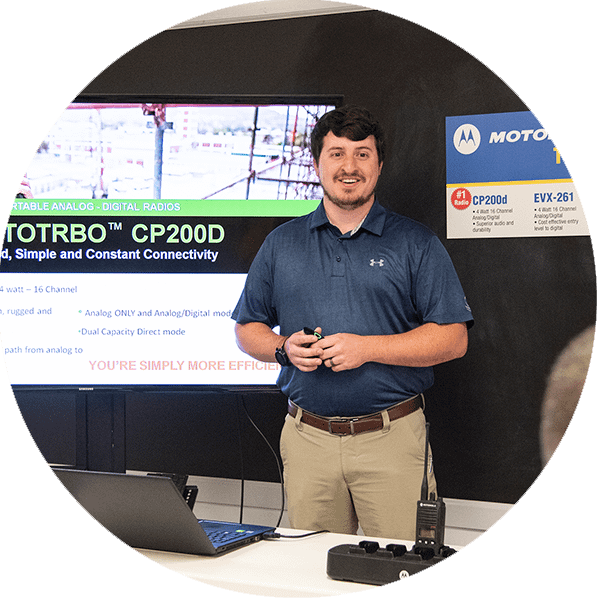 You can come to us, or we'll come to you! WSi has hosted hundreds of on-site trainings over the years in our state-of-the-art training center, on jobsites and in resellers' facilities. Let us help educate your staff to ensure the easiest path to success for your team!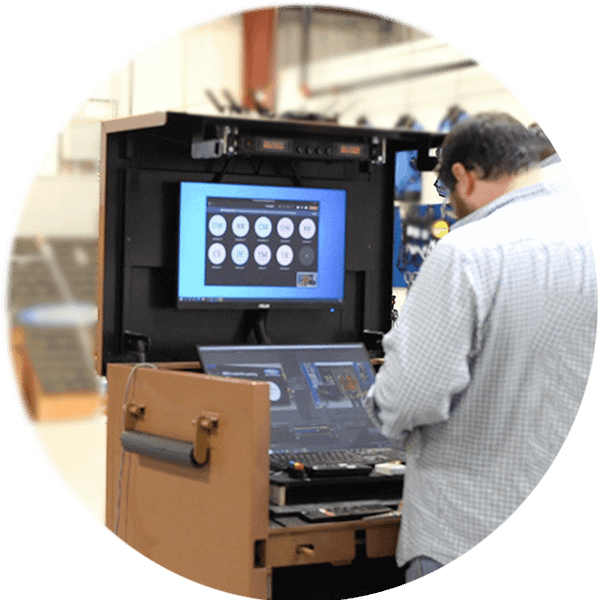 Live or pre-recorded, our team can perform webinars to any size audience. Anything from a technical training for a few, to a sales enablement training for a few hundred, WSi can get the job done with a customized webinar specific to your company's request!
Live training sessions via studio
Need more hands-on training in a pinch? WSi's live in-house training studio enables us to have a fully interactive experience from wherever you are! Live interaction, instant responses to your questions, and attendance tracking are a few of the many advantages!
Custom branded training videos, troubleshooting guides, radio cheat sheets, and more. WSi can create fully customized training materials for your team. These can be very powerful training tools "on the go" to help answer some of the questions that you may get asked while out in the field!
CUSTOM FLYERS & HANDOUTS
Promote your company to the fullest with customized flyers and handouts. Anything from an end-user specific promotion to branded rebate flyers can be designed with your company logos and contact information.
CUSTOM SIGNAGE & DISPLAYS
Let WSi upgrade your showroom with custom signage and displays to help you promote the Motorola Solutions brand. WSi's in-house graphics department can print or source any advertising materials that you need from countertop displays, to large scale or slatwall graphics to name a few!
CUSTOM LANDING PAGES
Looking to add a professional touch to one of your end-user promotions or programs? WSi designs and hosts multiple end-user landing pages with specific content based on what each customer needs. We can add user specific video content, troubleshooting guides, warranty processing, and any other requested information to create a unique and interactive experience at the click of a button!
ONLINE ADVERTISING CAMPAIGNS
Video advertisements, display ads, social media campaigns and more! WSi can create all the content that you need for your next online advertising campaign. Maximize your additional advertising spend with help from our in-house marketing experts!
Highly trained outside sales force. Available for dispatch and located in our territory of representation, working alongside our internal leadership team.