We can provide all your 
Two-Way Radio needs
We offer a wide range of services from training & sales to marketing help.
End user not sure which model to use? We have an in-house demo fleet we can deploy for end users to field test before they purchase.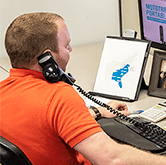 Our sales and support staff work hard to create partnerships between our authorized resellers and end users. We have outside salespeople who are in the field to educate, train, and promote brand awareness.
Save time and frustration. We can custom program radios before they ship from our facility. Our in-house technicians can match your customer's existing radios or create new custom profiles as needed. Most custom programming orders ship next day.
Our facility has more than 40,000 square feet of warehouse, office, and training space. We house a large inventory, allowing us to offer same-day shipping on the majority of orders.
We provide product training sessions available to resellers/end users on-site or via web. Sessions include technical training, sales training, or general product knowledge.
We provide aggressive marketing programs including custom flyers/logo materials, design assistance, showroom planning, email marketing strategies, and promotional products